Poor Equipment Maintenance

The two major maintenance problem areas that the author has observed are:
Slick Floors

Poor Captive Bolt Stunner Maintenance
The majority of slippery floor problems were due to either the rough finish wearing off a concrete floor or a slick floor in a cattle stunning box.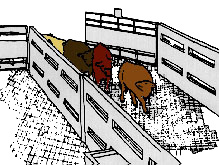 A good example of a non-slip floor
The author has conducted welfare surveys in plants in both the U.S. and Canada. Slick floors which caused animals to fall down were the number one equipment problem. Cockram Corley (1991) found that slipping increased stress and also noted that it is a problem area.

A survey of slaughter plants indicated that 21% had slick floors.
Condition of Floors in Slaughter Plants

| Number of slaughter systems | Percentage | Flooring Condition |
| --- | --- | --- |
| 8 | 27% | Excellent, non-slip floor |
| 15 | 52% | Acceptable floor |
| 6 | 21% | Slick floor, not acceptable |
The author has observed that the second most common equipment maintenance problem in U.S. plants is poor maintenance of pneumatic captive bolt stunner. Stunners require careful maintenance to maintain maximum hitting power.