Animal's Condition At The Plant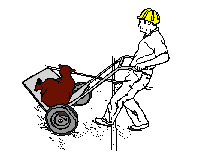 Animals which arrive at the plant in bad condition often suffer.
A recent survey of U.S. cow and bull slaughter plants indicated that 1% of the cull beef cows and 1.1% of the cull dairy cows arrive downed and unable to walk (Colorado State University, 1995).

Most of these animals were in bad condition before they left the farm.

Further information on death losses and metabolic stress can be found in Gregory (1994) and Grandin (1993).

There have also been increasing problems with very excitable cattle and pigs which are more difficult to drive and more likely to become excited (Grandin, 1992; 1994b).

The author has observed that the increase in excitable cattle and pigs appears to be in the leaner animals.

This is an area that needs to be researched because the welfare of excitable animals is sometimes severely compromised.

References :

Grandin, T. (1995)

Downers Are A Problem
Meat and Poultry April ( page 10 )

Grandin, T. (1995)

Handling Hyper Hogs
Meat and Poultry June ( page 56 )

Grandin, T.(1994)

Methods to reduce PSE and bloodsplash
Allen D. Leman Swine Conference Volume 21 pages 206-209
College of Veterinary Medicine, University of Minnesota.

Grandin, T.(1988)

Environmental Enrichment for Confinement Hogs
Livestock Conservation Institute Annual Meeting Proceedings pages 119-123
1910 Lyda Drive Bowling Green, Kentucky 42104-5809