Buffalo Handling Requirments:
Buffalo facilities must have solid sides on all fences, chutes, gates, and pens.

Fences and chutes must be 7 feet (2.15m) tall to accommodate buffalo. For safety reasons, Dr.Grandin has designed chutes featuring a toe hold and grab rails to provide an escape route for handlers.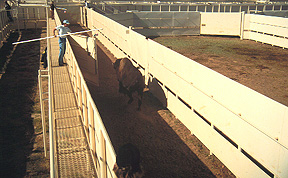 Solid 7' (2.15m ) fence with a toe slot and grab rail so that handler's can exit quickly.
Buffalo facilities must be designed so that handlers can operate gates without being among the animals.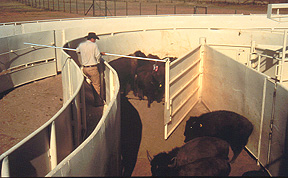 Fill crowd pen only 1/3 full.

Round forcing pen for directing buffalo into the single file race. Buffalo move easily through the pen into the race because as they circle around they think they are going back to where they came from.

A stick with a hook on the end is used to operate the gate.
Buffalo must be sorted like sheep - in a single file chute - not a wide lane.

Bison will remain calmer if each animal is brought up individually to the squeeze chute from the crowd pen. Bison waiting in the single file chute often become agitated. They will stay calmer if they remain in a crowd pen with their mates. Bring each animal up to the squeeze chute one at a time.

The squeeze chute should have solid sides as well as a solid top. A solid top will prevent bison from rearing.

If animals are held standing in a single file chute like cattle, bison must be held in a separate compartment between solid sliding gates. If possible it is better to allow the animals to remain in a group in the crowd pen instead of standing in the single file chute.

To see Bison Solid Fence Detail (End View) .

To see Bison Solid Fence Detail (Side View) .

References :


Lanier, J. and Grandin, T.
The Calming of American Bison (Bison bison) During Routine Handling